Who We Are 
Mission: Jonah House is a sanctuary space for activists and creatives. We commit to strengthening community through food justice, education, and peace building.
Vision: Jonah House envisions a world that resists oppression through creativity, spirituality, sustainability, and acknowledging community autonomy. We believe justice and peace emerge when space is held for collective healing, community restoration, and food sovereignty. 
Friends of Jonah House
Our Friends of Jonah House community includes residents (bios below), Board members, the Sunday Liturgy Circle, a committee of people working to advance the vision of our community, among many others. The committee includes Ausar Amen (bio below), Anjal Amin, Gary Ashbeck, Ellen Barfield, Romina Campbell, Melissa Cole, Jennifer Johnson, Ogun Lumumba (bio below), Charles Michaels, Paul Magno (bio below), Amy Pucino, Caroline Sacko, Jemila Sequeira (bio below), Shannon Shird, Katie Lauter, & Megan Mundie.
Jonah House Current and Recent Residents 
Ethel Jemila Sequeira was born and raised in Brooklyn, New York and spent most of her adult life in Ithaca, New York. Embracing the diverse experiences of these two vibrant cities, she developed a passion for community leadership, program development, and coalition building. Her inquisitive nature coupled with her accomplished academic and professional background in social work drive her to seek untold stories, unearthing hidden histories and amplifying voices that have been marginalized or overlooked.
Since her time in New York, Jemila has lived in several places, and in 2019 relocated from New Orleans to the Jonah House community. Early in her time at Jonah House, she actively engaged in community service, contributing to the weekly food pantry distribution. She now works with a group of volunteers to vision and nurture the community garden. Both efforts are in line with her life-long commitment to food security, social justice, and the empowerment of local communities.
Also, during her time at Jonah House, Jemila collaborated with filmmaker, director, and cultural anthropologist, Dr. Gail Myers and in 2021 took on the roles of co-producer and archivist for the film documentary project titled "Rhythms of the Land" (2022). This poignant project celebrates the enduring legacy of generations of Black farmers in the United States, capturing their unwavering love for the land and dedication to community despite historical adversities.
Jemila's grassroots, academic, and professional experiences in community leadership, program development, and coalition building run parallel with her creative endeavors, such as gardening, acrylic painting, photography, and film production. Throughout her life, each have been an important part of her community empowerment engagements and are in-keeping with the gifts she now shares with the Jonah House.
Ogun Lumumba was born and raised in Baltimore, MD. Helping Black men develop themselves to be assets to their community here in Baltimore is of the utmost importance to Ogun. Family is also very valuable to him, which is where he puts much of his attention besides being a small business owner.  Jonah House has been a space for Ogun to continue his tradition of family love and also a base to hold brotherhood meetings, where sessions are centered around health & wellness, Black history, and family & communal development. Ogun has met many amazing people here at Jonah House who have a keen focus on being a blessing to others.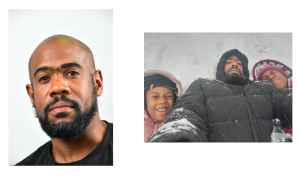 Ausar-Mesh Amen is a third-generation natural healer who grew up in Baltimore. His father, a southern sharecropper, herbalist, blacksmith, and engineer passed down valuable information on the healing properties of plants to Ausar. In turn, he has shared his knowledge and wisdom through lectures, workshops and community organizing in the Sandtown-Winchester neighborhood of Baltimore City. Ausar is a former recipient of an OSI Fellowship and Farm Manager for the Tubman House Farms. 
Paul Magno joined Jonah House in 2018 after living in Washington, DC for over 35 years. As a grassroots peace and justice activist, he spent his adult life in an array of commitments rooted in the Catholic Worker movement outlook. Paul cherishes Jonah Houses' history of nonviolent resistance to war and related injustices forward. He looks forward to contributing to its future endeavors. 
Akita is the community member who has resided at Jonah House the longest, showing her great commitment to peace and justice.