Following the funeral of Dan Berrigan in New York City, Liz and Joe were able to attend the Atlantic Life Community (ALC) spring retreat, at the Mariandale retreat center, in Ossining, New York. (Tucker and Emily had to stay in Baltimore to tend to the newest community member at Jonah House – Genevieve, born May 1. And Ardeth and Carol stayed behind to tend to the three of them, and Genevieve's big brother, Auggie.)
Located on a bluff on the east side of the Hudson River, Mariandale offers some breath-taking views.
But more inspiring is the work of the 40+ dedicated peacemakers who attended the retreat. Many of those attending had come from Dan Berrigan's funeral the day before. Dan was very much on people's minds. In fact, one of the sessions was devoted to brain-storming public witness scenarios to commemorate Dan.
The retreat had all of the regular features of an ALC retreat. There was sharing about what folks are doing in their communities to bring about a more just and peaceful world. There were workshops on such topics as intentional communities, sustainability, centering prayer, and the Plowshares movement. And there was a talent show. Joe offered some of Dan Berrigan's poetry and sang some songs in his honor, including Phil Ochs's anthem "When I'm Gone."
On Sunday Liz gave an impassioned presentation on Pope Francis's encyclical on the environment, Laudato Si'. Without shying away from the dire state of the biosphere on the planet, Liz offered reasons to hope that God, through imperfect human beings, might prevent the destruction of the planet that God so lovingly created.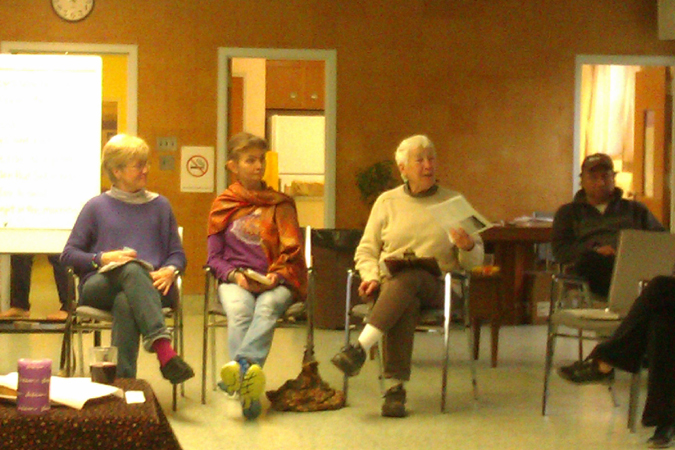 Liz's presentation was followed by the traditional ALC retreat liturgy. Those gathered read the scriptures of the day and broke bread together.
Here is one of the altar decorations, done by one of the children who attended the retreat: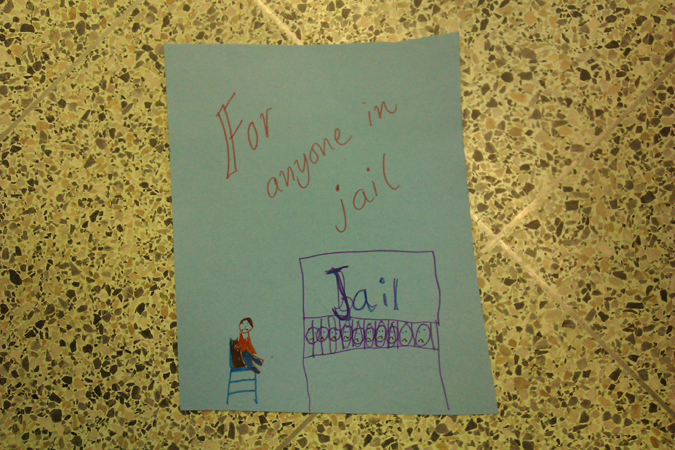 May God's grace sustain the community until it meets again, in Camden, NJ, over Labor Day.