On April 30, we received the sad news that Fr. Dan Berrigan, SJ, had died. Dan was a priest, poet, prophet, and protester; he was also a spiritual God-father of Jonah House, the brother and uncle and friend of Jonah House members, and an inspiration to thousands. Dan and Phil Berrigan were the prototypical "radical priests," which was acknowledged by Time Magazine in 1971.
Liz was asked to do a eulogy for Dan at his funeral, in New York City. Joe, who once entered a Catholic seminary with the aspiration to be a priest like Dan Berrigan, went up with Liz on Thursday, May 5.
The wake was held in the afternoon and evening of May 5 at St. Francis Xavier Church, a Jesuit church in Manhattan. The St. Francis Xavier school, next door to the church, put out a banner in tribute to Dan. The banner displayed one of Dan's better-known poems, "Some."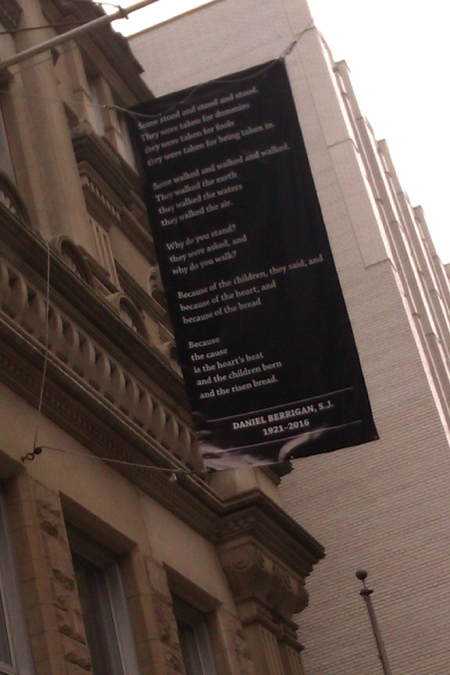 Joe took the picture while walking to the church with members of the Dorothy Day Catholic Worker community. Moments later a uniformed member of the school's ROTC program walked by. Kathy Boylan of the Dorothy Day Catholic Worker stopped him to point out the irony (hypocrisy?) of a Jesuit school with a ROTC program putting out a banner in tribute to one of the great Jesuit peacemakers. Kathy encouraged him to quit the ROTC program and convince all the other ROTC members at Xavier to do the same.
The wake offered a platform to many of Dan's friends to commemorate this great voice and actor for peace. Many pictures of Dan were on display.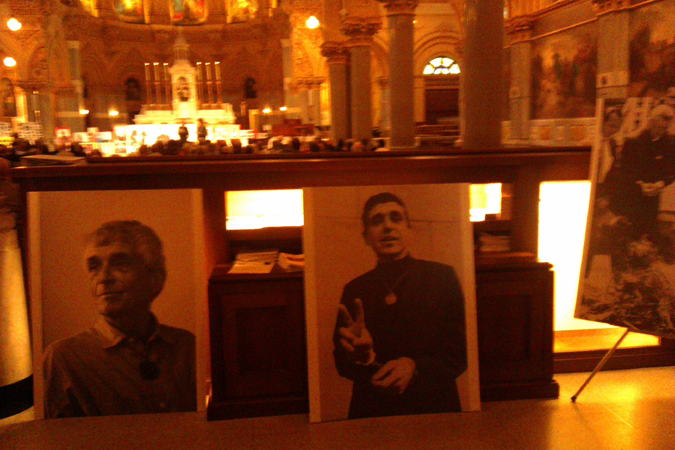 Dan's funeral was the following day. It began with a march from the New York Catholic Worker, where Dan spent time with his friend Dorothy Day and said mass for the Catholic Worker community, to St. Francis Xavier Church. Even though it was pouring rain, it was a raucous, joyful celebration of Dan's life. The march was led by a rowdy brass band.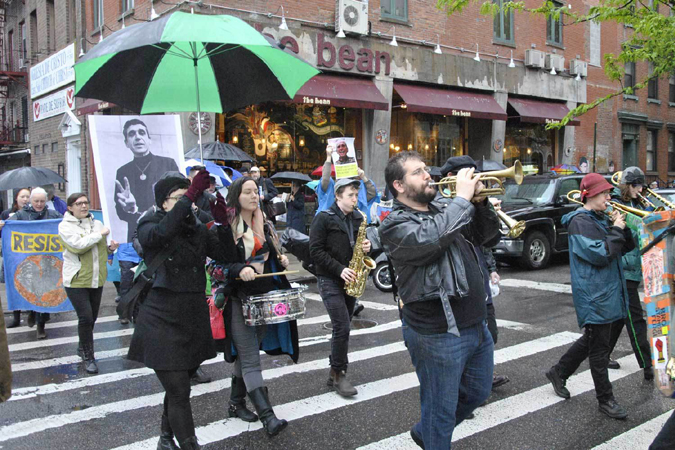 Here's another shot of the march.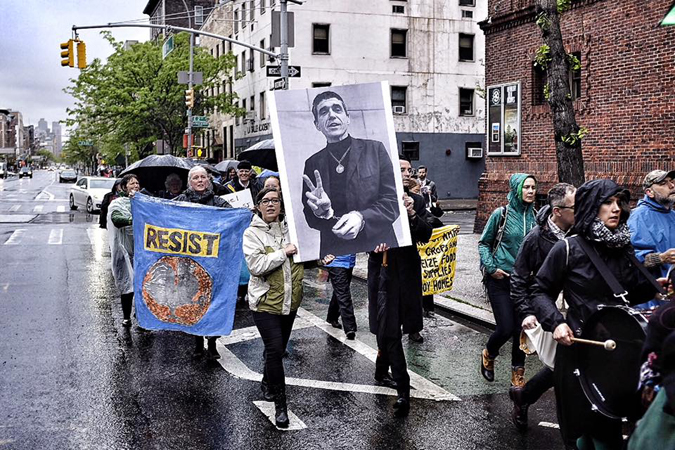 The celebration continued in the warm, dry, and very packed St. Francis Xavier Church. Steve Kelly SJ, a friend of Jonah House, gave an inspired homily at the funeral mass. He began by jokingly telling the FBI agents in the audience that they can finally close their file on Dan Berrigan. Though this might be premature, because Dan – like St. Therese, the Little Flower – will likely spend his time in heaven doing good (and making merry mischief) on earth.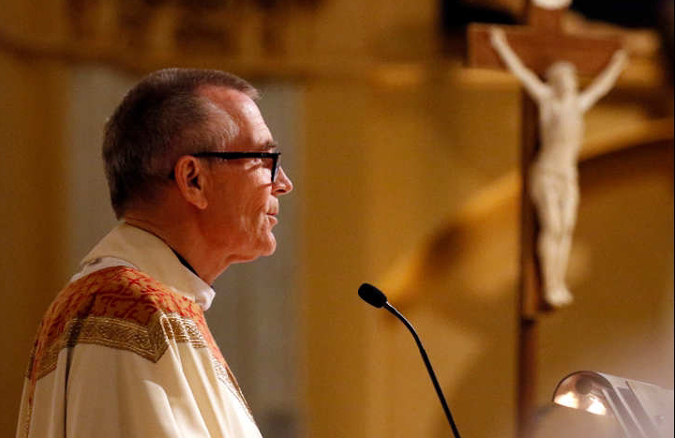 A highlight of the funeral mass was Liz's eulogy of Dan, beginning with Dan's famous statement concerning the Catonsville action in 1968. As a sign of appreciation for all Liz has done for peace, and in hopes that she will carry on the legacy of the Berrigan family, the audience gave Liz a standing ovation that lasted for a few minutes.
Jerry, Frida and Kate Berrigan – children of Liz and Phil, and nephew/nieces of Dan – also gave touching eulogies, as did their cousin Carla Berrigan Pittarelli.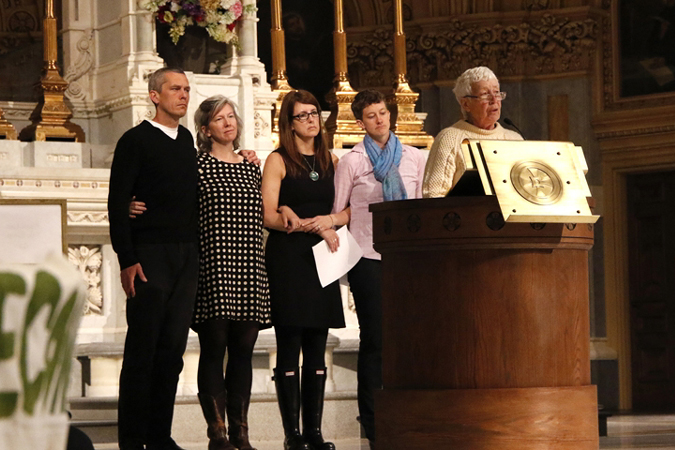 The funeral mass was followed by a reception at St. Francis Xavier Church. There were many more pictures of Dan, and some of him with his brother Phil. The picture below features just Phil and a quote that is still very much apropos.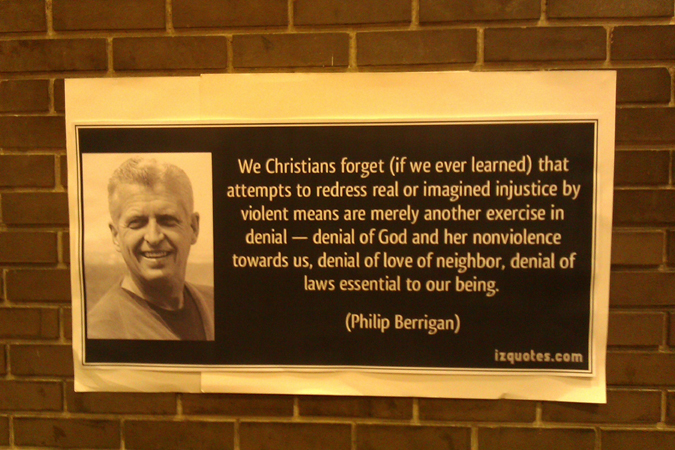 Dan Berrigan, along with his brother Phil and all the Berrigan clan, will forever be "presénte" at Jonah House.