By Joe Byrne
On January 20, I was one of thousands who came to Washington DC to inaugurate the resistance to Donald Trump!
I started off at the metro stop in Takoma Park. I got off the metro at Columbia Heights, strapped on my marching drum, donned my signs, and walked down to Malcolm X Park where the ANSWER rally was already in progress.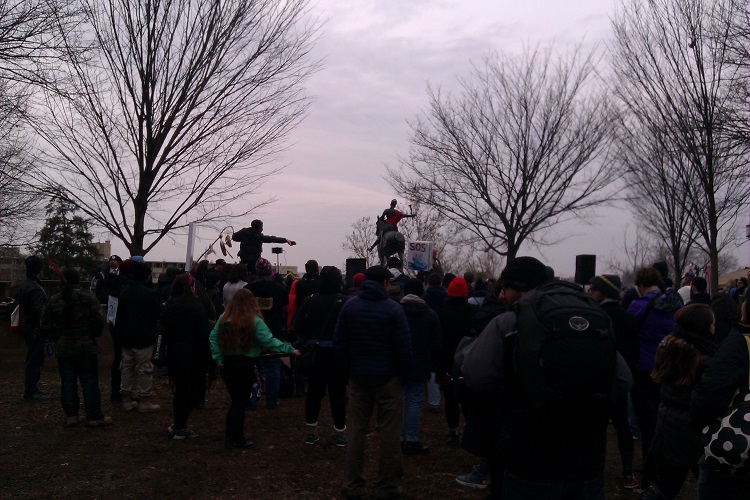 As I was walking towards the rally, I saw the statue of Joan of Arc and thought wouldn't it be nice if her sword were replaced with a flower. As I got closer I saw that that's exactly what someone had done (I believe Joan lost her sword some time ago). There was Joan clutching a red carnation. She was also wearing a revolutionary red sash.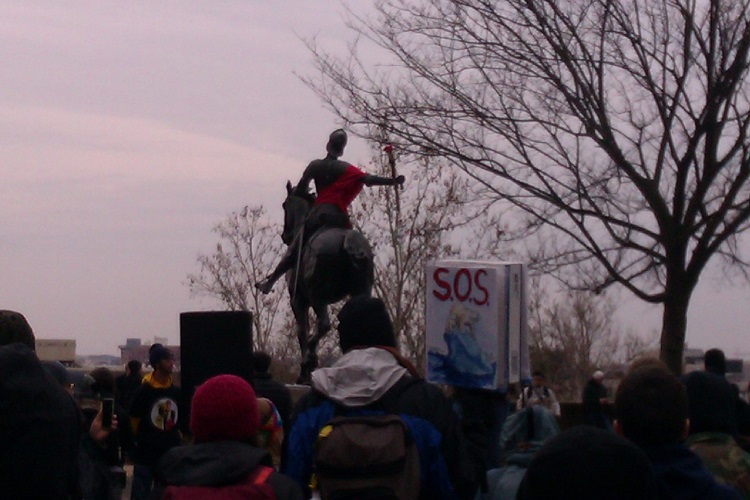 The crowd was sparse but spirited. There were some inspired speakers, including folks from the Equality Coalition, a radical LGBTQIA group.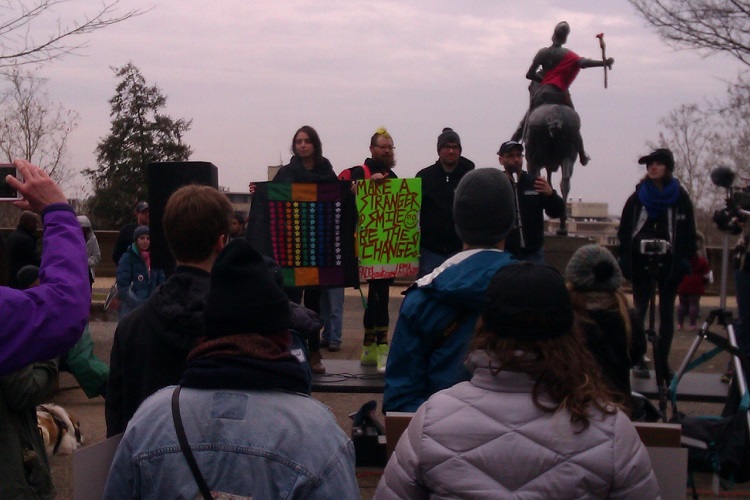 There were a lot of good signs. I like the one above: "Make a stranger smile. Be the change." And this one: "If you aren't terrified, you're not paying attention." I guess this is a variant of the more common "If you're not outraged, you're not paying attention." Actually, with Trump at the helm, you don't have to pay much attention to be outraged. Everything he does, every word he speaks, is outrageous.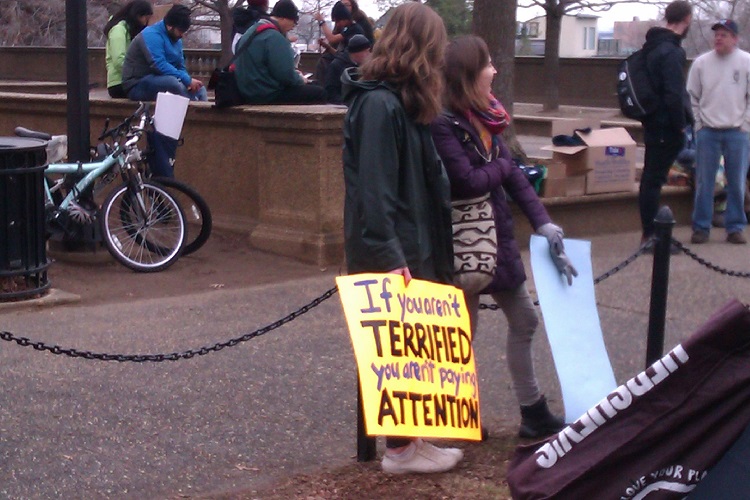 My friend Pete Perry took this picture of me and the sign I made for the day, which reads: "Unified Resistance Trumps Trump."
I didn't stay for the whole rally. I wanted to get to Columbus Circle (in front of Union Station) for the DisruptJ20 march (the ANSWER folks would be marching from Malcolm X Park to join the DisruptJ20 march at McPherson Square).
Walking with my signs (but not drumming yet), I headed to the U St. Cardozo metro stop. On the way, I saw this bit of graffiti: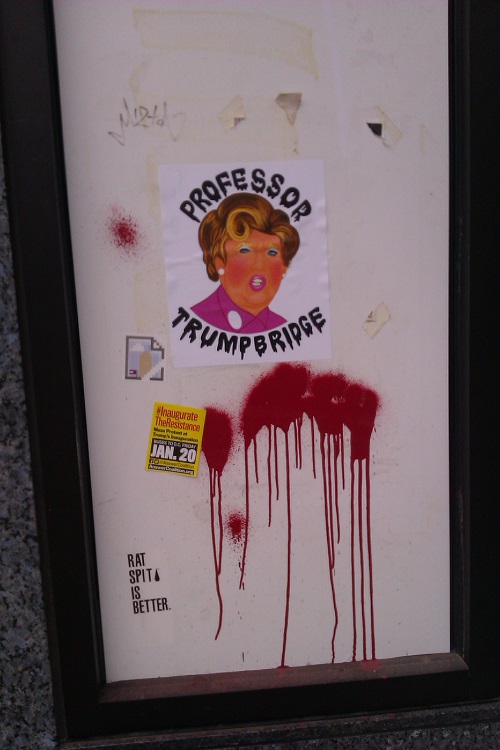 I'm not sure who Professor (Something)bridge is. Is this supposed to be Dame Edna Everage (the hair style is similar, but Dame Edna's hair is usually purple)? It also looks a bit like the Iron Maiden, Maggie Thatcher.
I took the metro to Gallery Place and walked to Union Station, wearing my signs (the sign I had on my back said "Swords into Plowshares"). This is what I saw when I got to the march at Columbus Circle: the water protectors from Standing Rock leading the march.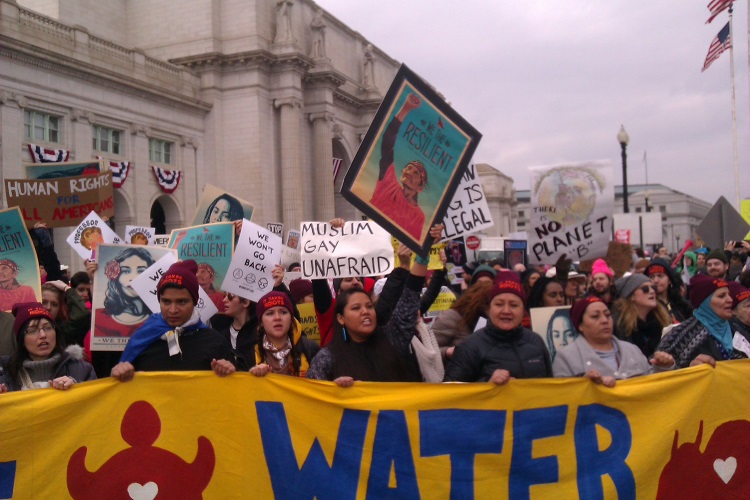 The march was just getting underway. I joined in.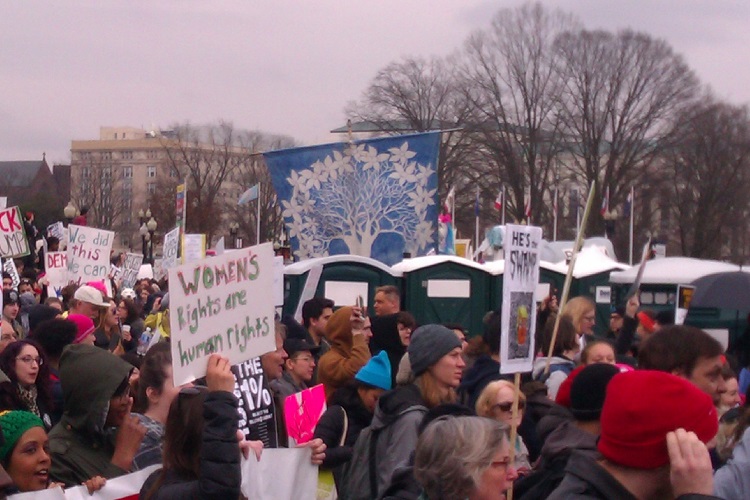 I climbed a barrier and took this picture along the way: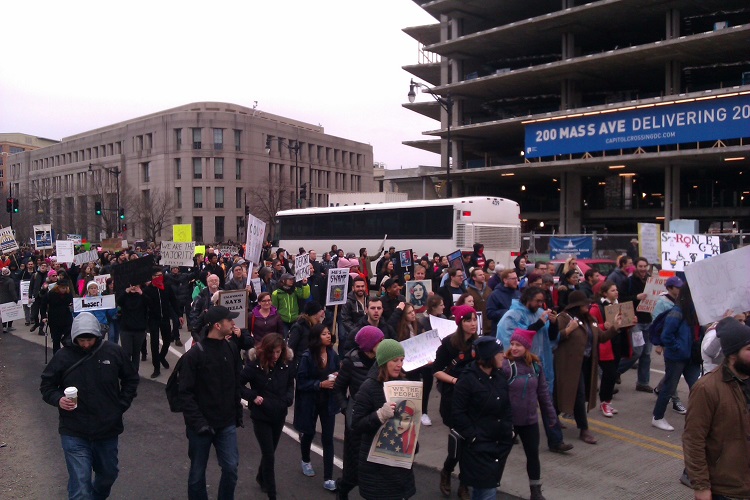 And this one a little further along: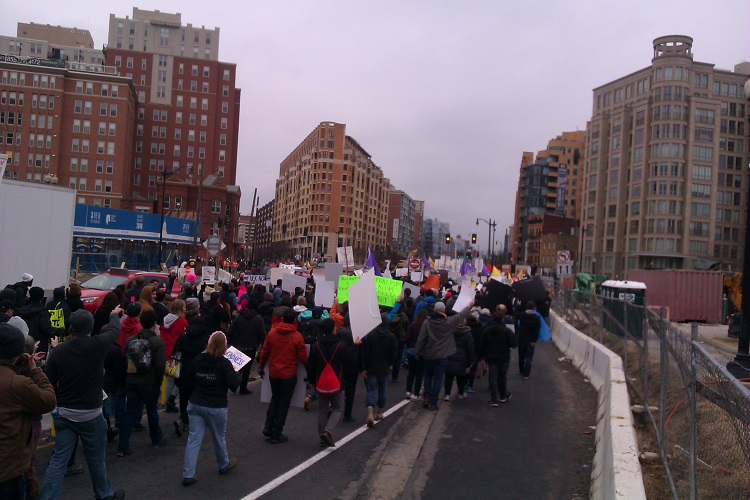 We marched for quite a while, walking parallel to the inaugural parade route. I found some other drummers and drummed along on my darbuka (metal drum from Turkey). The march ended at McPherson Square, a few blocks from Peace Park (Lafayette Park) and the White House.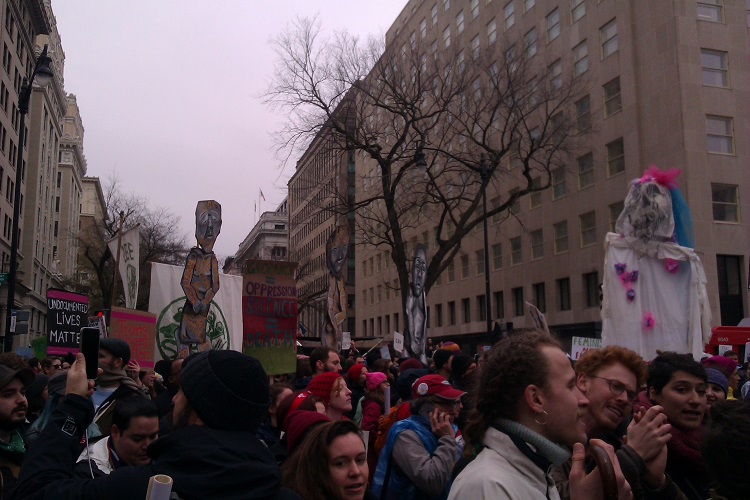 I waited for the Bread and Puppet figures to arrive at the park. It's not a march if they're not there!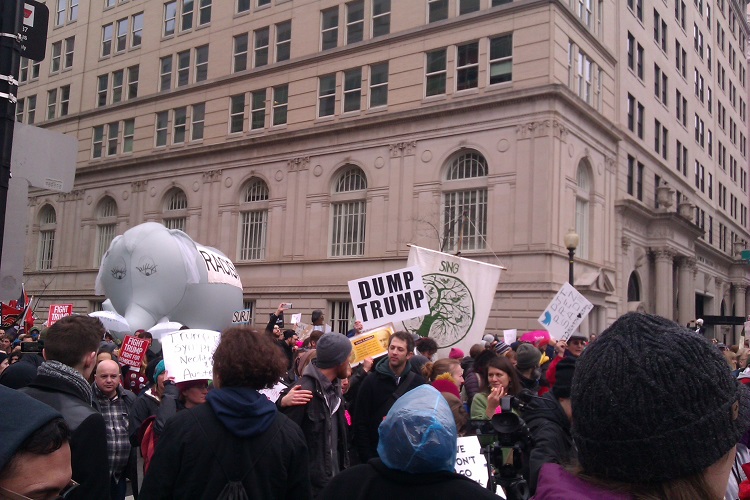 There was a festival atmosphere at McPherson Square (where a few hours earlier the police had been shooting rubber bullets and tear gas at protesters). I found a ragtag drummer group and joined in with my drum.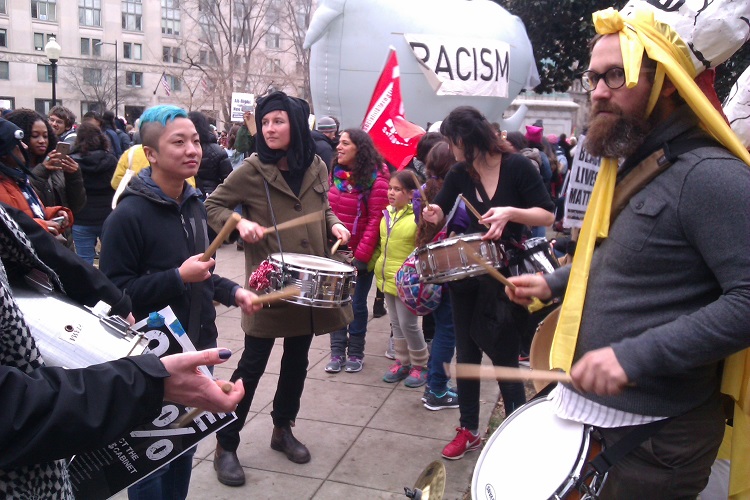 Then the drummers were joined by a ragtag marching band. I pulled out my kazoo and played that, along with my drum.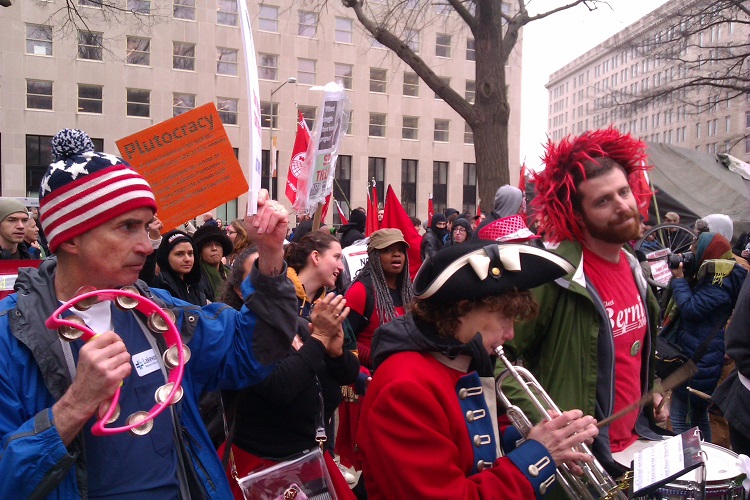 I really loved this banner of a tree (and a Trump-faced Magritte pipe? – "The Treachery of Images"):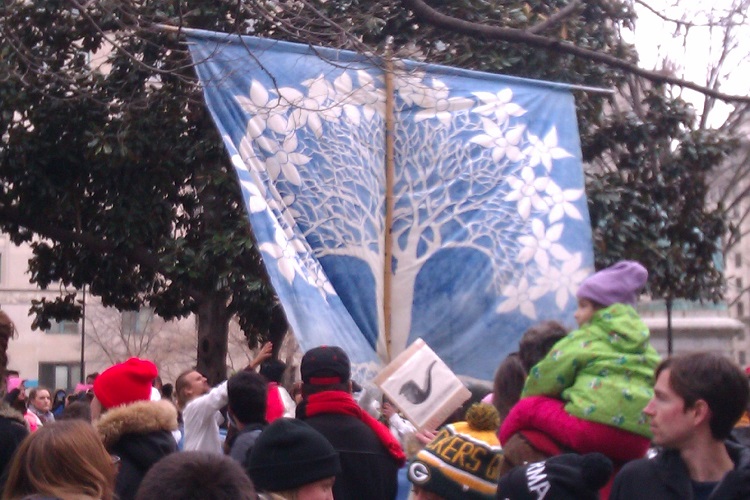 I thought this punning poster, based on Shepard Fairey's famous Obama "Hope" poster, was clever. The "Dump Trump" banner was less clever, but certainly colorful!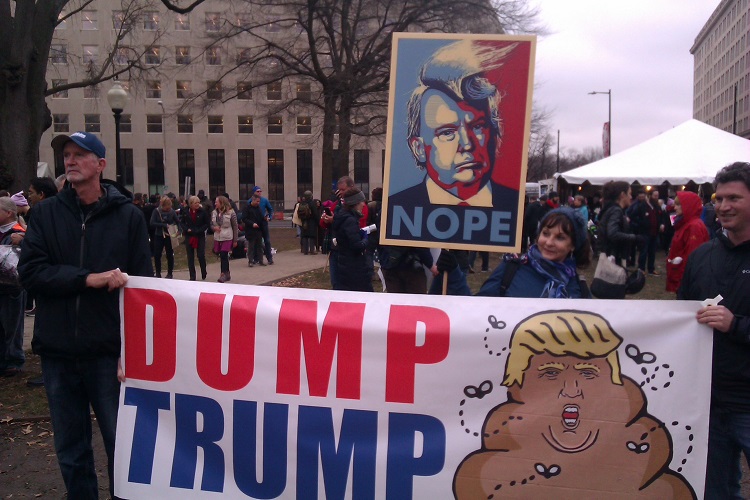 Speaking of Shepard Fairey, there were quite a few of his new creations being carried in the march. Here's one "We the People are greater than fear"):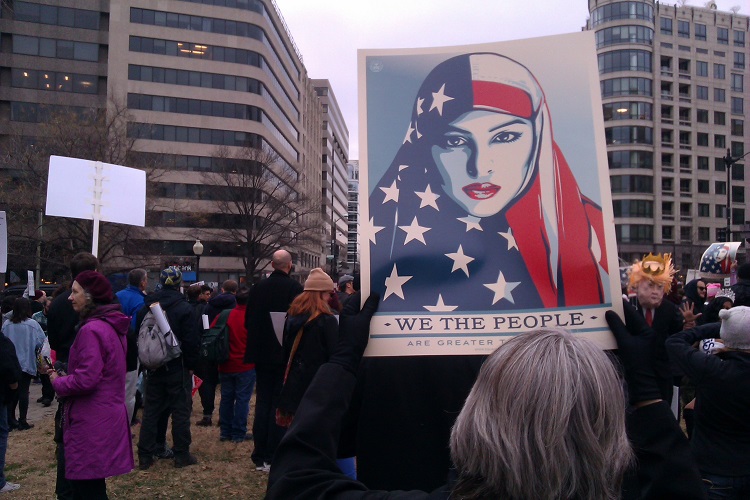 Here are two: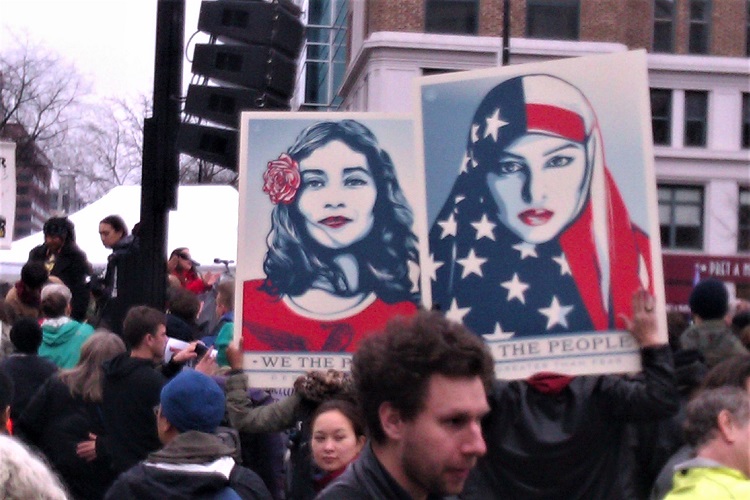 There was at least one more. You can see all three here.
There were graffiti artists hard at work when we arrived at McPherson Square. I didn't stay to watch them finish.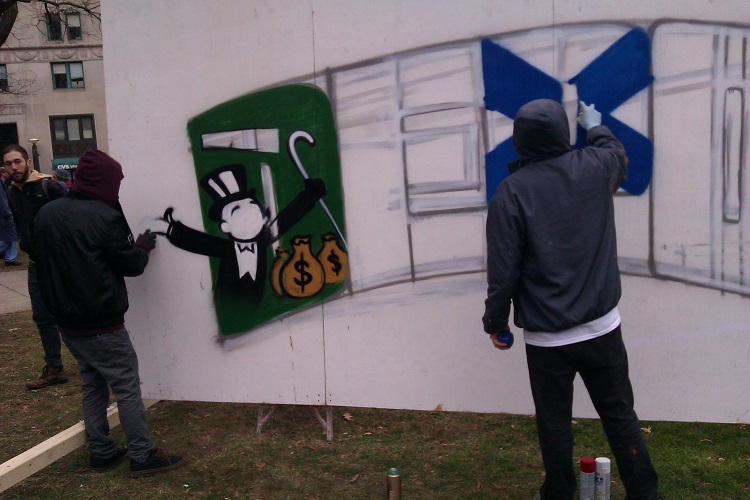 I did stay long enough to here a speech by one of the native American leaders at Standing Rock: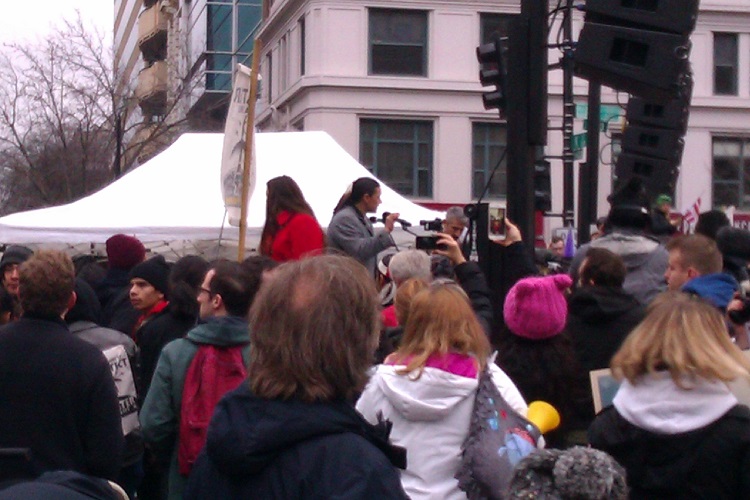 His message was basically this: We're all in this together. It's time to resist because Trump and his minions will try to take it all, and trample everything we're worked for. Stand up and resist!
I left the rally soon after. I walked with my signs towards Dupont Circle. I passed a ritzy hotel and a lady in pearls and furs said "We're going to make America great for you, too, sir." She may actually believe that. But it won't be too long before it's clear that Trump and the rest of the one percent mean to keep everything for themselves. When I got to Dupont Circle, I saw that resisters had preceded me: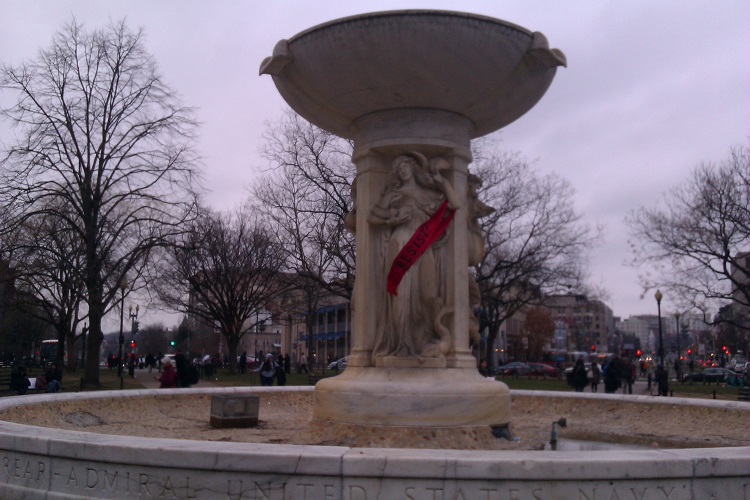 I ended my march at one of my favorite haunts at Dupont Circle: Teaism. The place was crowded so I drank my tea outside. You can see my darbuka, and the backside of my "Unified Resistance Trumps Trump" sign, which reads "PEACE between people of all colors and creeds".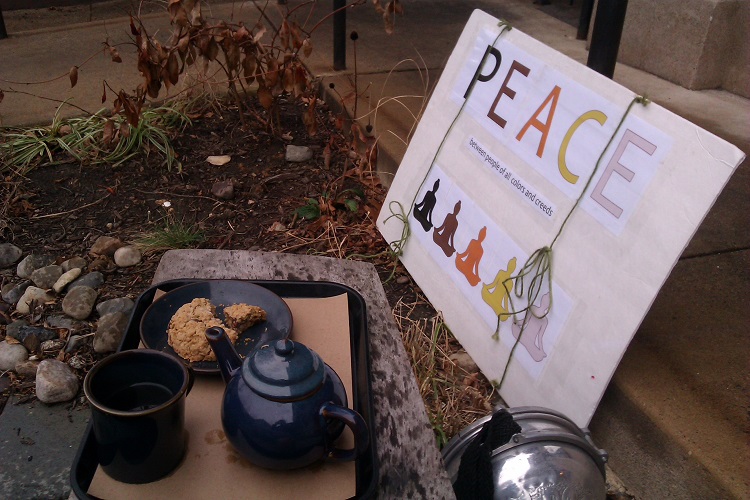 The tea I drank was called "World Peace." When I ordered it the guy behind the counter said: "That's what we need. World Peace." I replied, "Yes, we certainly do." And I hope to do my part in the next four years, at least.